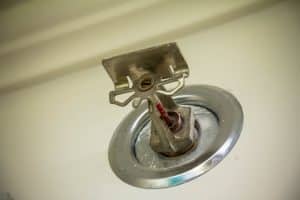 The story seems almost too terrible to be true: a lawsuit out of Miami describing a "national cover-up over a significant life safety issue" in regards to CPVC pipes installed in thousands of homes throughout the country for use in safety sprinkler systems – pipes which have been proven to fail over and over again; pipes which the plaintiff claims were knowingly installed despite their defects.
In short, the Wind and the Latitude on the River condominium associations in Miami have "filed a class-action lawsuit against manufacturers and distributors of pipes for fire sprinkler systems that allegedly are defective," according to The Real Deal. The suit names dozens of the manufacturers, distributors and suppliers, and claims (as per the Daily Business Review) that "chemicals commonly used in construction and in metal pipes react over time with resins in the CPVC pipe, causing them to leak and blow out. The leaks damage drywall and lead to mold growth but also can cause the sprinkler systems to fail in an emergency due to lack of pressure" (emphasis ours).
Why a class-action lawsuit?
Because so many buildings are affected by the defective pipes and systems, the two associations started a class-action lawsuit against the companies. Class actions are helpful when there are multiple plaintiffs, because it allows all the cases to be consolidated into one case. This keeps the lawsuit moving through the courts, as opposed to filing thousands of individual lawsuits which could clog up the system for years. It is the same reasoning behind why so many defective drug and medical device suits are class-actions or multi-district litigation (MDL) suits.
Furthermore, a class action will allow everyone who is affected by the faulty pipes to have a claim to the compensation if the plaintiffs succeed.
Who is named in the suit?
The associations did not limit their scope to Florida. Indeed, 12 manufacturers, sellers and distributors from around the country are named in the lawsuit. Those companies include:
Allied Tube & Conduit Corp. of Delaware
Atkore International Inc. of Delaware
Georg Fischel Harvel of Pennsylvania
HD Supply Watermarks Group of Delaware
HD Supply Watermarks Ltd. of Florida
Lubrizol Advanced Materials of Ohio
Nibco Inc. of Indiana
Spears Manufacturing Co. of California
Tyco International PLC or Delaware
Tyco Fire Products LP of Delaware
Victaulic Co. of New Jersey
Viking Corp. of Michigan
One of the attorneys handling the case told the Business Daily Review that more than 10,000 buildings around the country may be in danger of using these defective pipes, and that it could cost millions of dollars to fix each building. That means the lawsuit could potentially award more than a billion dollars in damages if the judge finds for the plaintiffs.
As of yet, the names of all the building owners have not been released, but condos, schools, apartments and dormitories throughout Washington, D.C. and West Virginia could be affected. We will update you as we learn more information, so please check back in the future weeks to see if you or any of our local residents may be at risk.