Blink-182's Travis Barker Files Malpractice Lawsuit After Suffering Nerve Damage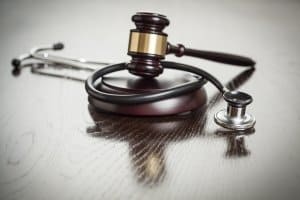 Longtime drummer for rock band Blink-182 Travis Barker recently filed a malpractice suit against a Santa Monica medical imaging center. This action caps off an unfortunate several months for the musician and his family.
Earlier this past summer, in June, Barker was admitted to the hospital to receive treatment for blood clots in his arms, forcing the postponement of Blink-182's planned Las Vegas residency. After treatment, he was released from the hospital only to be admitted several days later with complications relating to a staph infection that he alleges was caused by a dirty needle. The infection necessitated cancelling even more concerts.
Several weeks after his staph infection, in July, Barker, his teenage son and a friend were in a car accident in California. According to court documents, a school bus allegedly ran a red light and crashed into Barker's car. Barker, his son, and their passenger were able to escape without serious injury.
On September 6, however, the band announced it would be cancelling its fall tour and all other concert dates due to Barker's ongoing physical issues. Barker released a statement regarding his health problems on Twitter.
— blink-182 (@blink182) September 6, 2018
"The past few months have just sucked as I have been sidelined just waiting for my doctors to clear me so I could get back on the road and perform with my band," he said. "Unfortunately, the risks associated with drumming are still too great. I am doing everything I need to do so I can get back on the road as soon as possible. I want to thank my fans, family, friends and bandmates for all the love and support."
Barker takes legal action
After both hospitalizations and the car accident resulted in the postponement of the band's tour, Barker filed a lawsuit against Medical Imaging Center in Santa Monica for medical negligence.
According to reports, Barker was diagnosed with blood clots and subsequently received a routine MRI at the Center. He was to be sedated prior to the procedure, but technicians were unable to locate a vein. The lawsuit states that the technicians stuck him at least 40 times in the arms with a dirty needle, which resulted in a staph infection and nerve damage.
Additionally, Barker filed a separate legal action against both the school bus company and bus driver who hit his car in July. His teenage son is also part of the lawsuit.
Barker hasn't commented on the amount of damages he's seeking in either lawsuit, and neither Medical Imaging Center or the school bus company have yet commented on the lawsuits.
Medical malpractice 101
When a medical professional fails to perform their duties in a competent manner, or meet the standard of care while treating a patient, and injury occurs, the patient may have a malpractice claim. Medical professionals include surgeons, nurses, doctors, anesthesiologists, dentists, chiropractors, and more.
Parties who may be liable for a patient's injuries include a hospital, practice, clinic, nursing home, facility, or other medical institution that employed the responsible staff.
A successful malpractice claim must be able to prove three things:
There was a relationship between the medical professional and the patient, which establishes a duty of care.
The medical professional breached that duty of care.
The patient was injured as a result of that breach.
The third point is the most important. The patient must have suffered injury for it to be malpractice. If a doctor makes a mistake but doesn't cause any harm, there's no claim to make. However, when medical negligence does happen, it can result in serious and disabling injuries, or wrongful death.
Victims of malpractice may recover the following in compensation:
Medical bills
Lost wages and income
Pain and suffering
Scarring and disfigurement
Non-economic damages
Please contact Paulson & Nace, PLLC through this contact form or by calling 202-463-1999.