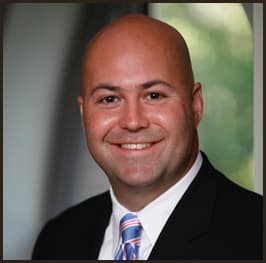 Attorney
Christopher T. Nace
Christopher T. Nace works in all practice areas of the firm, including medical malpractice, drug and product liability, motor vehicle accidents, wrongful death, and other negligence and personal injury matters.
About Chris
Chris was born in Washington, D.C. He graduated from Georgetown University with a degree in Government in 1998. In 2003 Chris graduated from Emory University School of Law where he served as Editor-in-Chief of the Emory Law Journal. Mr. Nace also earned his Masters in Business Administration from the Goizueta Business School at Emory University in 2003. While enrolled in Emory's JD/MBA Program, Chris was recognized as the Rothfeder Family Scholar and was awarded the Emory School of Law Dean's Public Service Award.
Before joining Paulson & Nace in February 2007, Mr. Nace practiced in the Atlanta office of the national law firm of Robins, Kaplan, Miller & Ciresi L.L.P. Mr. Nace was an associate in the Intellectual Property Litigation Group where he represented plaintiffs in complex patent infringement matters. Mr. Nace also handled a number of business litigation and employment liability matters.
Chris is a Past-Chair of the American Association for Justice New Lawyers Division and its Membership Oversight Committee. He currently serves as one of the NLD's representatives to the AAJ Board of Governors.
Chris is the Treasurer of the Trial Lawyers Association of Metropolitan Washington, D.C. and is a member of the Board of Governors of the Public Justice Foundation.
Chris has tried numerous medical malpractice cases to jury verdict in Washington, D.C., Maryland and West Virginia. Most recently, Christopher secured a multi-million dollar settlement in a medical malpractice case resulting in the death of a 37 year old father of two.
Mr. Nace has twice been awarded the American Association for Justice Distinguished Service Award, and is also a past recipient of the Wiedman Wysoki Award and the Heavy Lifting Award. He has been recognized by Best Lawyers, Super Lawyers and as one of the National Trial Lawyers Top 100.